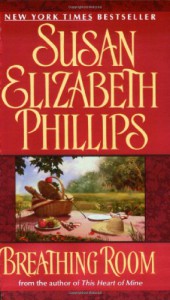 Popular self-help psychologist leases a cottage in Tuscany to assess her major life crises & write another self-help book. She finds out that her landlord happens to be the actor famous for his villain roles & who she had a recent & not-so-great 1-night stand with. He finds her non-sycophantic & lecturing ways annoying but refreshing. And he's as far as her desired romantic partner as it gets yet she's very attracted to him. Heroine eventually agrees to an affair but with her strict conditions which Hero takes as a challenge to overcome.
I didn't enjoy this Phillips' book as I do her others. Writing was good but it had more of a chick-lit tone. The main romance was intertwined with other characters in town & 2 other secondary romances. The emotionality was tepid & so were the sexual chemistry & sex scenes. Dialogue was sometimes funny & overall light in tone except for times when heroine would do her therapy-speak. There was a lecturing aspect to this book due to heroine's line of work. Stories about various Italian locations & culture abounded. It sometimes had a travelogue feel to it.
Provisionally recommended.